What is AdBlue® and does your diesel vehicle need it?
If you've got newer diesel engine vehicles, you're likely to need to keep them topped up with a special liquid that reduces NOx emissions. (NOx is a term for nitrogen oxides relevant for air pollution, nitric oxide (NO) and nitrogen dioxide (NO2).
For decades trucks, coaches, tractors, and other vehicles that contain diesel engines emitted toxic NOx fumes into the atmosphere. Now however, with a few drops of AdBlue, the NOx fumes are broken down into Nitrogen and Water. 
To find out if your vehicle needs AdBlue, have a look under the fuel cap cover; if there's a smaller, second cap which is blue or black in colour next to your main fuel cap, then you will need AdBlue.
This system has been developed to help reduce air pollution and to meet Euro VI emissions legislation. AdBlue has a very important role to play in the future of diesel vehicles; whether that's road vehicles, construction machinery, agricultural tractors, boats or static machinery such as generators and pumps.
What actually is AdBlue and what does it do?
AdBlue, despite its name, isn't blue, it is a colourless, non-toxic substance. AdBlue is a trade name for a special type of diesel exhaust fluid. It's a made from mixture of urea and de-ionised water and it usually has a separate tank from the main fuel.
AdBlue is a trademarked brand name for Diesel Exhaust Fluid; a solution used in Selective Catalytic Reduction systems of modern diesel engines. A colourless liquid mixture of urea and water, it's an exhaust fluid stored completely separate to your vehicle's fuel. When diesel fuel is burned by the engine, AdBlue is injected into the SCR to convert nitrogen oxide into harmless nitrogen, water vapour and carbon dioxide.
What should I do if I put diesel in the AdBlue tank?
If you've accidentally put diesel into the AdBlue account, don't start the engine. Most vehicles will require the tank to be drained to avoid damage. If you start the engine, depending on the vehicle, the catalytic and injection systems may be comprised which would require repair or in some cases the parts may have to be replaced.
How Much AdBlue Do I Need?
The volume of AdBlue used depends on a range of factors such as the type of vehicle, the application, the driving style and weather conditions. A heavy-duty tractor being regularly used can go through 2500 litres of AdBlue a in year. A rough calculation to work of how much AdBlue is needed is to use a ratio of 5 to 10% of the amount of diesel required.
It is worth remembering if you run low on AdBlue, your engine may stop working as most vehicles require a minimum amount before the engine will function again.
How does it work?
When the engine is running, small quantities of AdBlue are sprayed onto the exhaust gas produced, turning the NOx into nitrogen and water.
Where to find cheap AdBlue near me?
If you are looking for fairly-priced AdBlue near Wales, look no further than Dragon Petroleum. We are part of the NWF Fuels Group that offers quality ISO-certified AdBlue diesel. We are a leading local fuel supplier, reaching customers across North Wales.  
Additionally, we are a bulk supplier and sell directly and can deliver to site, bypassing hefty retailer prices. 
How to Order an AdBlue IBC? (Intermediate Bulk Container)
As an established and reputable fuel company, we strive to handle each customer order with ultimate professionalism. Customers can easily order an Intermediate Bulk Container online or by calling us on  01935 473 302, and our team of skilled experts will immediately begin to process the order. 
If you order online, we might need to get back to you to clarify and double-check some of your details. Doing so ensures we have the right telephone number among other things.
Is AdBlue Corrosive?
AdBlue consists of a mixture of two substances, urea and deionized water, which undergo high purification processes to ensure it is fit for your car, preventing any damages to the engine. 
AdBlue is biodegradable and not hazardous. It is also water–soluble. 
However, AdBlue is mildly corrosive when it comes to contact with certain materials. It is advisable neither to consume AdBlue nor inhale its vapours. Our bodies react differently to ingested or inhaled substances, and for some people, it might cause an allergic reaction. 
When you come into contact with AdBlue, rinse thoroughly with water. In case of a spill, immediately wipe off to avoid possible corrosive effects.
How Much AdBlue do I Add?
The amount of AdBlue to add depends on the size of the vehicle's tank. The larger the tank, the higher the amount needed. AdBlue consumption depends on the vehicle's engine, load as well as how the vehicle is driven.
Some manufacturers will share with you information on your vehicle's AdBlue capacity. If you are still unsure, you can take a look at your user manual or check online. Once you figure out the above, get to understand the specific refill procedure for your vehicle as these can vary by manufacturer.
However, never make the mistake of adding AdBlue in diesel. AdBlue is always added in a special tank and failure to do so can damage your vehicle's engine.
What is the typical AdBlue range?
As with fuel consumption in general, there are a great number of factors that effect performance. Weather conditions, driving style, engine size, type of vehicle and use are all key in influencing AdBlue range.
For an average road vehicle though, typical AdBlue consumption is likely around 1 litre per 400 miles. However, some vehicles consume the same amount of AdBlue diesel for every 300 miles.
Normally it is advisable to top-up AdBlue once the vehicle has travelled between 3000 and 12,000 miles, depending on factors such as the vehicle model, tank capacity, and how economically you drive.
How do I order AdBlue bulk?
To order AdBlue bulk, you can purchase directly on the website or give us a call. It is important to let our customer service team know about any restrictions, in terms of transportation, to allow your merchandise to reach you safely and on time.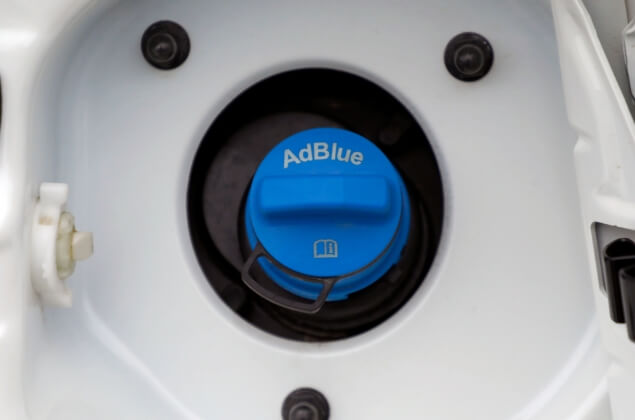 AdBlue For Your Farm or Business
We are a leading supplier of AdBlue to farms across the UK. Our substantial buying power and commitment to quality service ensures you will receive your AdBlue when you need it; supplying from 5 litre containers up to 1,000 IBCs. We supply and install AdBlue bulk tanks at no upfront cost. We also offer tank installation and replacement, and fit tank monitors so you can track your fuel level and know when you need to reorder.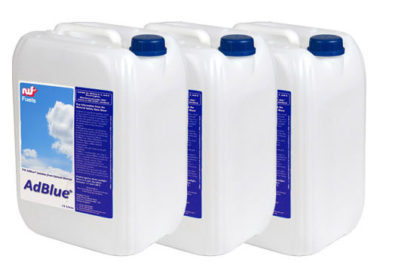 AdBlue for your fleet
As one of Wales' biggest suppliers of AdBlue, fuels and lubricants, we understand the needs of urban and agricultural fleets; thanks to the hundreds of businesses we supply to. All of our AdBlue is ISO 22241 compliant and will keep your nitrogen oxide emissions down, helping you to stay legal and Emissions V and VI compliant. We can supply from 5, 20, 200 litres, up to 1,000 litre IBCs and bulk deliveries direct into your tank. Our diverse network of strategically located depots means we supply 5 days a week all year round; ensuring you receive your AdBlue when you need it, at the best possible price. If you are looking for bulk AdBlue storage, we can install it at no upfront cost to you.
Choose Dragon Petroleum For AdBlue
We believe that having a personal contact who understands your business is important. Need more information about AdBlue or want to order some today? Speak to your local account manager to discuss how we can fulfil your business fuel needs.
Buy AdBlue